Wow!! We've been home from vacation almost a week and I'm just now getting around to putting up a post. In my defense we've been super busy so here's a recap of our busy back from vacation week!
Last Thursday we sadly left this:
This was our view from our balcony...yeah it was truly amazing!
We had some delays due to "security" issues with someone on the plane (eeeek) but we finally took off from Montego Bay to head home. As quickly as the screens came on hubster and I were racing to fast forward the movie we were watching on the flight over...we had like 30 minutes left in the movie when we landed on the way to Jamaica. We finished the movie (The Lincoln Lawyer)....really good movie by the way. Then we landed in Atlanta, took a trip through customs while the drug dog sniffed our luggage (no worries...we were fine) and then it was back to DFW a few hours later than anticipated but home.
Friday... was a marathon day of getting the laundry done from vacation so the Abogg could head off to Waco. Friday evening Court arrived and we skipped the gym to go to dinner here:
where I had this
hey..... the gym will be there tomorrow!
Saturday....we're off bright and early to head to Austin to take Court and her things back to school. It was a long day of moving in the heat and eating here
and dessert here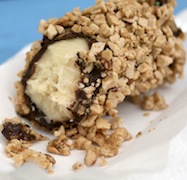 a little food truck called Bananarchy good stuff good stuff
Heading home we stop at the Abogg's apartment to relieve him of a box spring and back home
Long day but always enjoy helping out our kids!!
Sunday....my hubster made some ribs with the jerk seasoning we brought back from Jamaica
They were yummy!! We had some leftover green beans (very little leftovers) and some frozen corn
Monday....I was struggling to find something for dinner since I hadn't grocery shopped since before vacation. I finally found these things and threw together what I called Bruschetta Chicken
I just took some chicken and poured the jar of bruschetta over the top then topped with some Italian blend cheese. Baked at 375 for about 30 minutes. While that was cooking I boiled up some pasta
I just threw a salad together and this was dinner. Not bad not bad at all. The Abogg had to come home for a class at church on Monday night so he had dinner with us. What you don't see is the "toast" I made which turned out to be everyone's fave part of the meal. I just buttered bread (yeah plain old sandwich bread) and sprinkled on Parmesan cheese and garlic salt. Ran under the broiler in the oven and dinner is ready to serve!! We ate and then the Abogg headed back to Waco, I miss him...just sayin'
Tuesday... I got a crown at the dentist. I didn't feel good. The end.
But LL and I decided to get together and put our "coupons" together and get them organized. That means I got to use these...
Yeah... I got to bust out the label maker!! That's always a good day for me and it made me forget that my face felt like someone punched me.
Hubster had a meeting so dinner was whatever I could "not chew"
Wednesday..... well since it's been a few weeks since I've been to Sprouts I knew I had a shopping day ahead of me. First up....mow and weed whack the yard. Oh that's OK it was only 104 degrees while I was doing it. jeez....and seriously if you are one of those people raving about how close fall is getting where you live...shush! We are still over a hundred degrees every day around here, no rain and no relief in site!!! So I grabbed the crock pot and put together some Mexican Crock Pot chicken
Just throw in some boneless skinless chicken thighs, a can of black beans, a can of diced tomatoes, a can of green chili's, a can of black olives, the leftover frozen corn in the freezer and about 1/4 cup taco seasoning. I also added some extra chili powder and some jalapeno salt.
Just dump it all in the crock pot and go shopping!
Speaking of shopping... I got all this at Tar jay for ....drum roll.......$15.26
no kidding!!! I double down on the coupons at the ole' Tarjay and rack up.
This was waiting on me when I got home. Just grab two big forks and shred that chicken.
I dumped mine on some tortilla chips and added some tomatoes, shredded cheese and some chopped green onions. Hubster had his on some tortillas. It's a versatile dish you can even top some lettuce with it. We had quite a bit leftover so I pulled out two freezer containers, split up the leftovers and now I have to some in the freezer for a last minute meal or for the kids to steal eat when they come home from school.
whew....see I told you it was a wild week!! I've already cleaned up the fresh green beans and got them going in the crock pot and the chicken breast unthawing for dinner. Now I gotta run because I'm meeting a friend for lunch! Go me.... I NEVER leave the house except to go grocery shopping!!
so what are your weeks like when you get back from vacation? hectic? calm? or do you just walk around and pretend that you are still there??
I personally could NOT figure out where that man was that had been making my omelets to order. I mean really....he isn't supposed to come home with me??
Peace, Love & Yummies