My face feels like someone socked me in the jaw this morning...remind me to ask the hubster later about that! hee hee BUT I'm gonna go ahead and do my yoga today even though I really don't feel like it but LL and I are gonna have craft day tomorrow so I need to get a move on things and get the downstairs cleaned up pronto smonto today so you are getting my post early today. Of course, I think I was doing it early before so I guess I'm just back on track. yeah yeah that's the ticket! :0)
So I'm gonna share this amazing recipe with you but I must give hottie chef Bobby Flay credit since after all it was his recipe I used. Like I said on Sunday...he sure wasn't in the kitchen helping me cook so he really only gets partial credit. If we wants to come help me cook well hey, I'm definitely ok with that too!
This was seriously good peeps! Seriously good!!
Cast of Characters
All that and the shrimp but it was in the sink waiting for hubster to get back from the grocery so he could peel and devein them.
4 cups water
Salt & pepper, to taste
1 cup stone ground grits
3 Tbsp butter
2 cups shredded sharp cheddar cheese
1 lb. Shrimp, peeled & deveined
6 slices bacon, chopped
4 tsp lemon juice
2 Tbsp chopped parsley
1 cup thinly sliced scallions
1 large clove garlic, minced
Bring water to a boil, add salt and pepper. Add grits and cook until water is absorbed, about 20-25 minutes.
Remove from heat and add butter and cheese. Stir well.
try not to just dive into them at this point either!
oh goodness...I could eat this pot just like this!
Rinse shrimp and pat dry. Fry the bacon in a large skillet until browned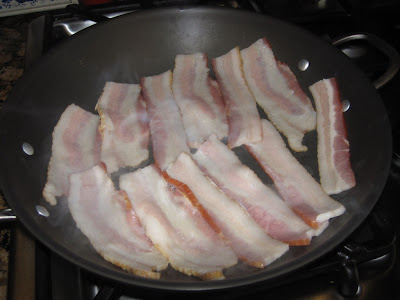 say bacon, bacon in your best imitation of that beggin strips commercial....funny funny no seriously we do that every time we cook bacon, don't you??
Remove bacon to paper towels to drain well then chop. Add the shrimp to the bacon grease in skillet...yeah yeah I said cook the shrimp in the grease! Get on the treadmill later, trust me it's worth it.
Cook until shrimp turn pink
Add the lemon juice, chopped bacon, parsley, scallions and garlic. Sauté for 3 minutes. Important...do NOT overcook the shrimp. They will turn against you and be all tough and rubbery like and that is not a good thing!
Stir the shrimp mixture into grits.
Serve it up pronto and make everyone VERY VERY happy ♪♪♪♪♪♪♪ Yep, you guessed it I was humming while I ate this. You know how little kids hum when they are happy and eating, I was humming away and I am not ashamed!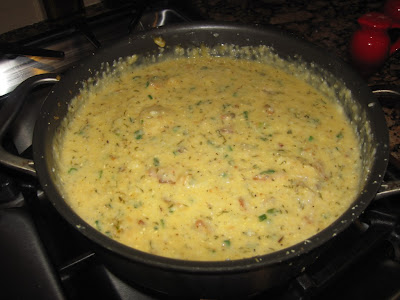 sorry peeps no final pic in the bowl because we devoured this immediately!
Peace, Love and Yummies my friends!