Hi deeeeee ho peeps!! It's Monday and I'm already in the recliner. Not so terrible once you know that I had two crowns this morning. Ayayayayayah!
At least there was power this time so I had my complimentary vanilla milkshake and then made a pit stop at Home Goods. Never been there and...it will NOT be my last trip. Oh my word!!!! No wonder everyone raves about it and I'm probably the only one who didn't know they were part of T J Max. Awesome!!! I did buy this
Because I've wanted one of the canvas prints from Ballard for so long but not at that price, this was easy to deal with but I still want the cherries one from Ballard. ;o). Maybe one day but in the meantime this is where this one is hanging.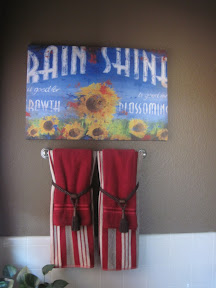 It's cheery in my bathroom so I'm happy!
Now sweet Leslie from New Orleans was in town this weekend and my word I ain't never ate so many oysters and shrimp. Well not since this time last year when Leslie came to visit! I'm gonna give you a few recipes today and a few tomorrow since I will probably have ice cream for dinner! Crowns people not laziness!!
Here we go the weekend in photos
My hubby's drink. I thought it looked like swamp water!
Five or six loaves of this yummy stuff. Hubsters fave French bread.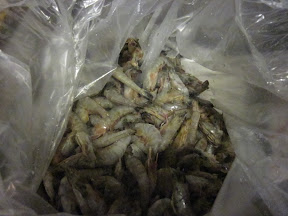 Yes, that is my sink FULL of shrimp. Yum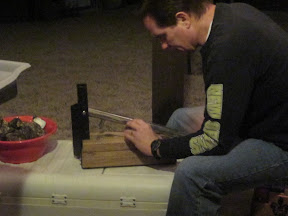 Hubster shucking the oysters...did I say yum??!!
Where are my saltines, cocktail sauce and horseradish sauce??? YUM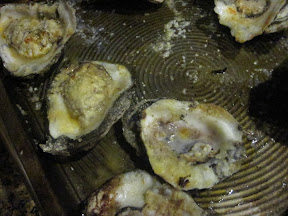 These were charbroiled on the grill by hubster and Leslie. I believe they have cajun butter and Parmesan cheese. Yum!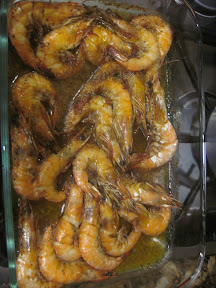 These are called barbecue shrimp. I'd don't know why, they aren't grilled or have any kind of BBQ sauce. Just butter and Cajun butter and more butter! I swear I think I was sweating butter on the treadmill Saturday. Yeah, I made sure to hit the treadmill every day with this much butter and food in my diet!
Oh and YUM again specially if you take a hunk of that bread and dunk in the butter sauce!!
Boiled shrimp...do I sound like Bubba Gump?? Yum
Oh did I mention there was sausage too?? Yep, lots of sausage. No yum for me, sorry I'm not a sausage fan. However my husband can eat enough for both of us!
Soooooo more from the Texas Who Dat Nation tomorrow where we will make some shrimp and grits that will make you slap yo mama. Please don't really slap her, love yo mama please. Seriously...I impressed myself with these!! We also made hubsters moms Oyster Artichoke soup!
Oh we also went to the Home and Garden show Saturday and I want this in my backyard (with the optional brick oven please)
However hubster wants this
I bet I lose this battle! ;0(
Later peeps I need some medication for my throbbing face!
Peace, Love and Yummies!
Posted using BlogPress from my iPad